In Sri Lanka the term tusker is synonymous with any male elephant carrying ivory, be it large or small. Seeing a tusker in Sri Lanka is indeed a rarity, as only a small percentage of males on the island carry the genes to produce tusks. But in the continent of Africa it is very different, as the African Elephant, in both Savannah species (Loxodonta Africana) and the Forest Elephant (Loxodonta Cyclotis) the male and female animals carry ivory. The bulls invariably are bigger and in turn carry larger heavier tusks. But an average elephant is not referred to as a tusker in Africa, this moniker is rather given to very special bulls who are at the peak of genetic superiority and physical condition, enabling them to grow large heavy ivory which weight at least 45 kg per side, and at times almost touch the ground.
The sight of a giant bull with amazing shafts of ivory is a sight to behold, as usually the males with the best genetic stock tend to have this trait, and hence are physically impressive specimens. Around two to three centuries ago such majestic bulls were found throughout the continent, these were the prime breeding bulls and most desired by females to father their calves and carry on their genes to the next generation. Sadly with the onset of the white explorers came trophy and ivory hunting.
Invariably the prime target were the elephants with the biggest tusks. This systematic selection of hunting was practiced not only by the big game hunters but also ivory traders such as Tippu Tip who was a powerful ivory and slave trader from Zanzibar. It was one of his slaves who killed a bull with the largest pair of tusks in the world. Shot in the foothills of Mount Killimajaro, this bull carried a pair of ivory ,one weighing 107 KG and the other 102 KG.
Killimanjaro Bulls Tusks- Photo credits- A.C Gomes & Co
Later with the independence of many African nations, mass scale slaughter was rampant which further cut down on the population of big tuskers. By the latter part of the last century only a handful of true "Big Tuskers" remained. Historically these bulls were found in certain regions of South Africa, Zimbabwe, Mozambique all in the South of the continent, as well as in the East African regions of Kenya and Tanzania along with certain regions of the Congo, namely the Lado Enclave which was known as the prime hunting grounds for giant ivory by the Big Game Hunters of old. Historically, elephant populations in Botswana and Namibia never produced big tuskers of significance, as this is also depending on the type of food and nutrition the elephants have in their habitat.
In South Africa, in the 1970's there were seven bull tuskers with immense ivory over 50KG per pair in Kruger National Park. These majestic bulls were dubbed the "Magnificent Seven" by the then Chief Warden Dr U de V Piennar as an example of successful conservation work. These legendary tuskers roamed the various regions of this gigantic park and passed on their genes onto the next generation. Some of these famous tuskers are Mafunyane, Shawu, Joao, Shingwedzi and Ndluthamithi. Some of whose ivory are still on display at the Elephant Hall in Letaba Rest Camp.
Mafunyane, one of the Magnifficent Seven. Photo Credits- Anthony Martin Hall
Elephant Hall in Letaba, Kruger Natinoal Park
Elephant hall in Letaba, Kruger National Park
These giants all died by the end of the 1980's but thereafter their decedents roamed the park, with equally magnificent specimens such as Tshokwane who famously gored and almost killed wildlife photographer Daryll Balfour, Duke who was arguably one of the most handsome with symmetrical ivory, and Mabarule who suffered for many years with severe arthritis which was discovered later from his bones and was assumed to have been in intense pain most of his adult life, and yet even these legendary bulls are no more. A new generation of up and coming tuskers are recorded, but are yet to match the might and majesty of the giants of old.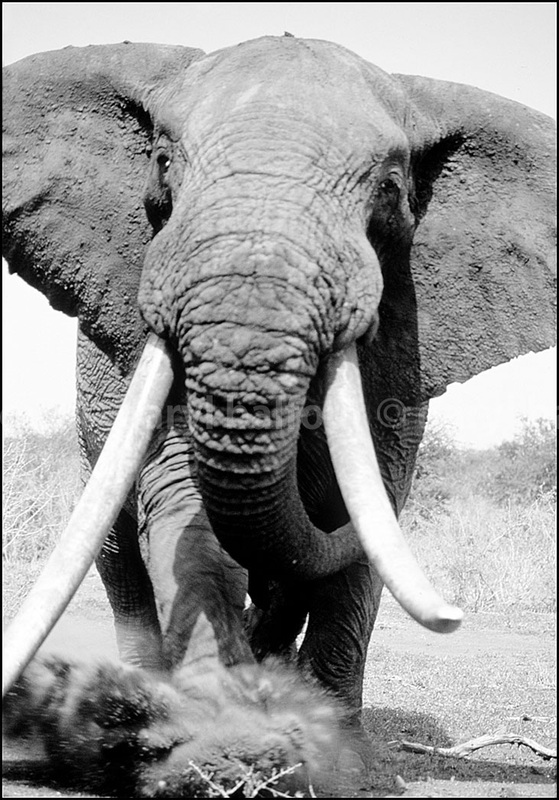 Tschokwane of Kruger National Park taken while charging and almost killed the photographer Daryl Balfour. Photo credits- Daryl Balfour
In Zimbabwe, there was the famous Chura Bull from Matusadona National Park in the shores of Lake Kariba, who was also featured in the Clint Eastwood movie "White Hunter, Black Heart" in 1990.
Chura Bull who starred in the Clint Eastwood movie- White Hunter Black Heart Photo Credits- Chris Worden
Moving onto East Africa, the most famous tusker of old would have to be Ahmed from Kenya. He was arguably the most famous tusker in the world at one time and declared a living monument by the then President Jomo Kenyatta and provided two guards to protect him around the clock. Ahmed roamed the forests and plains of Marsabit National Park and was known more by reputation rather than sight. He had the most magnificent pair of tusks which were beautifully symmetrical. Born in 1919 he passed away in 1974 at the age of 55 years. His massive tusks weighed 67 KG each and his skeleton and ivory is on display even now at the Kenya National Museum in Nairobi.
Ahmed the mighty tusker of Marsabit National Park, Kenya. Arguably the most famous elephant in Africa. Photo Credit - Mohamed Amin
Looking at the current day and age the fate of these big tuskers is very bleak. Around a decade ago there were an estimated 40 such magnificent bulls roaming around the plains of the African Continent. Right now less than half of that number remain and are disappearing rapidly. Most elephants now carry small ivory and in some parks have evolved without tusks as well, which gives a biological advantage in areas ravaged by poaching. The demand for ivory is ever increasing, especially in the China and now due to the lack of big bulls with large ivory even young elephants with very small tusks are killed, all to create lifeless trinkets which are worthless in comparison to the animal who carried them.
Out of the places known to contain such massive tuskers, Tsavo and Amboseli come to light. Tsavo is Kenya's largest national park and is a giant tract of land of approximately 21,000 square Kilometers, which is estimated to contain over 12,000 elephants in its eco system. Out of which a small handful of bulls are "Big Tuskers" with giant ivory. Sadly some of the most well-known iconic bulls have fallen prey to poachers, mainly those who cross from the Somali border. Bulls such as Satao and Satao 2 both fell to the poison arrow of poachers. Protecting these bulls is a herculean and almost impossible given the land extent, but is yet carried out tirelessly by the Tsavo Trust which is a field based NGO, with constant monitoring and action to protect these last remaining giants. Unfortunately it seems like a losing battle but yet they continue to fight on.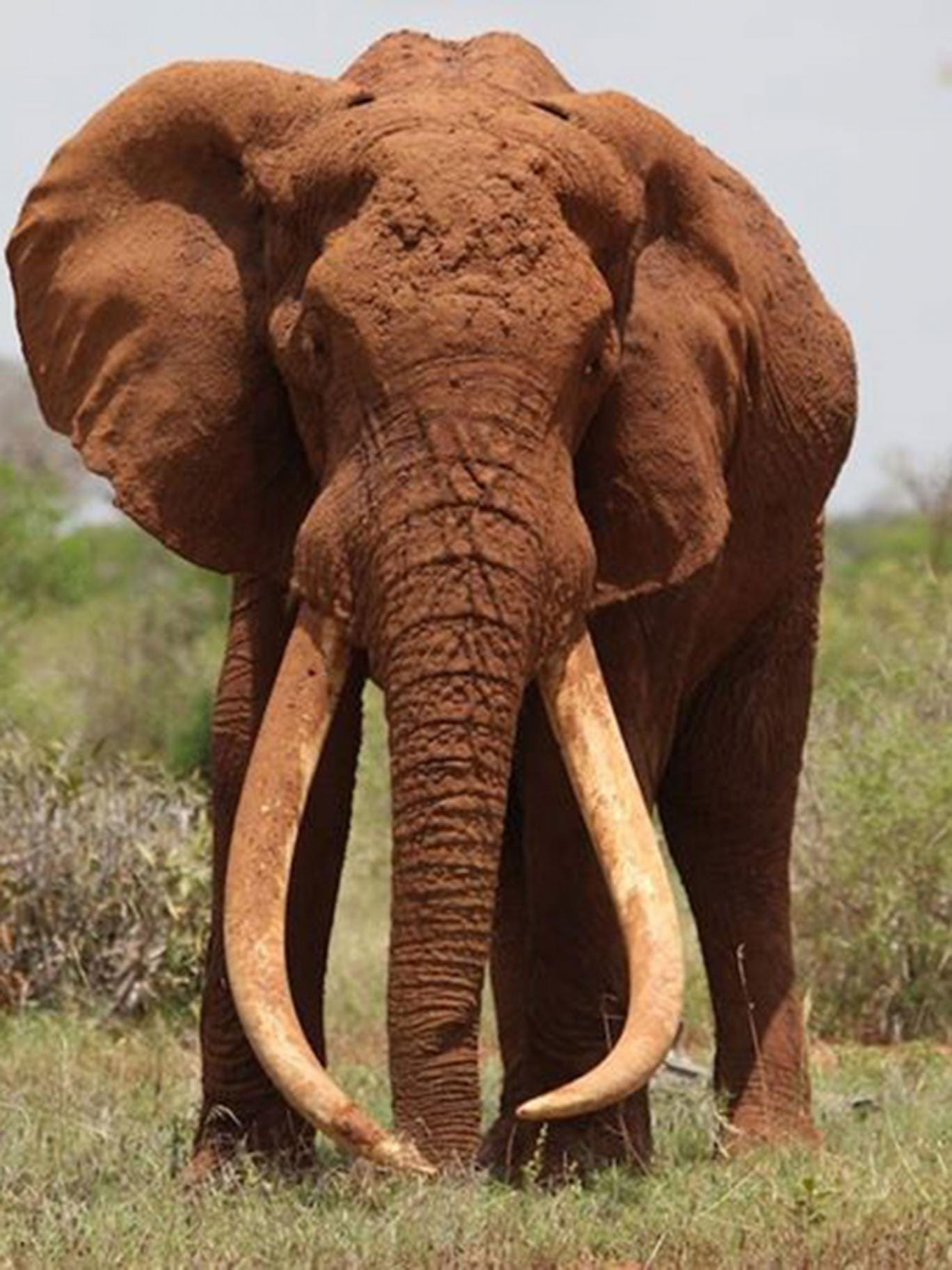 Satao, Tsavo's most iconic tusker who was brutally killed in 2014- Photo credits- Tsavo Trust
Butchered body of Satao. Photo Credit- Tsavo Trust
Amboseli National Park which is a much smaller eco system but yet historically linked to Tsavo via the Chyullu Hills is home to the most studied wild elephants in the world. Research pioneered by Dr Cynthia Moss in 1972, provided detailed findings on elephant biology, behavior and society. She systematically named and identified every individual elephant and their families and has records and data of elephant families spanning many generations. Another well-known researcher and scientist Dr Joyce Pool who started working with Dr Cynthia Moss and was fundamental in discovering the phenomenon of musth which was once thought to be a condition only Asian Elephant bull's went through, but concluded as present in African Elephants as well. Dionysus was one of the most famous bulls during the late 80's and 90's had beautiful wide swept ivory and was also featured in the documentary Echo and the Elephants. Presently there are three known big tuskers in the park. The most famous of which is Tim, who is from the "T" family and son of Trista named by Dr Cynthia Moss, and is arguably the most famous elephant in Kenya at the moment. His left tusk is long and reaches the ground, while is right tusk is short and curved inwards giving him a unique appearance. He is also a massive animal and towers above his fellow bulls and is estimated to measure 3.4-3.5 Meters at the shoulder and weigh almost 6 Tons. The other two living bulls are Craig and Tolstoy who is by blood Tim's uncle but is younger than Tim by two years and shorter in stature. Craig looks almost identical to Tim in tusk shape, but is shorter in stature and is thought to share the same father despite being from different mothers. Amboseli being next to the Tanzanian border and on the foothills of the great mountain Killimanjaro means these bulls might even be descendants carrying the genes of the giant bull shot on the slopes of this great mountain and who holds the record for heaviest tusks to date.
Mount Killimanjaro, seen from Amboseli National Park. Photo by Rajiv Welikala
My lifelong dream has always been to photograph one of these iconic African Big Tuskers. With this dream in mind I set off to Kenya in 2016 with high hopes of catching a glimpse of one of these last mammoths of the Africa of old. I knew time was running out and it is a matter of time that we will no longer have such awe inspiring animals left on our planet, and hence it was imperative that I somehow see one before it is too late. Little did I know it was going to prove harder than I imagined to find Tim who I desired to see the most. With information received from various sources that Tim is in the park during the time of my visit as he was in musth, I set off from Nairobi on a long an uncertain journey to Amboseli. The park was initially overwhelming, for someone who has never been to Africa before, the sight of such abundance of wildlife is astounding. Elephants are everywhere and found in their droves, from the many herds scattered across the park to lone bulls feeding in the marshes. On my first day itself I managed to identify Craig who was feeding deep in the marshes close to Ol Tukai. It was very far away, but I was able to identify him from his torn ear and shape of tusks. I was very happy at seeing him, and yet yearned to see his bigger and more majestic counterpart in Tim. The days passed by as we kept searching the park for this elusive bull. This is easier said than done, and I literally scanned and observed every single elephant I could see in a 360 degree radius in order to identify if he was Tim. One the third day at around 10.30 PM when the sun was very bright, I caught a herd which was far away in the swampy marshes. The light was very harsh and hence it was very hard to focus, but I noticed a gigantic bull trailing the herd and from the shape of ivory I immediately identified who he was. Unfortunately they were so far away and deep in the swamps that we were unable to get close enough even for a decent photograph. Extremely disappointed I headed back to the lodge to wait till the light gets better by afternoon and hopefully catch a hold of him. But when we returned a few hours later he was nowhere to be seen. I scanned the whole area in vain and must have observed around 100 elephants one by one and yet couldn't identify Tim. The days passed and I had made up my mind that I will not unfortunately see Tim, and was trying to convince myself to be content with seeing Craig. On the last day of our tour, on the last morning safari, we set out in the park, with no real hopes of seeing Tim, but rather maybe to try and find some lions. As the light was getting better, I noticed a herd of elephants in the distance, and for what it's worth told my driver to stop the van so that I can scan and check the herd out. To my disbelief there he was! Tim, the mighty bull who I was chasing all this time, grazing peacefully and following the herd of females and calves. He towered above the rest and was quietly following the herd while keeping a distance. My heart was pounding as he approached us slowly, my hands were shaking and I was barely able to keep them steady to keep firing camera. His true stature and might was evident as he was mere meters from our van as he towered above us. Paying no heed to our presence this mighty bull with the most magnificent ivory I have ever seen, peacefully crossed the road in front of our vehicle and continued on his way towards the marshes and the herd. It took me a good hour or more to bring my adrenaline down, and I felt jittery with excitement for the entire day knowing I had fulfilled the biggest dream of my life. Also deep down I felt a sense of sadness that this maybe the last of a noble line of giants who will cease to exist in the coming generations, all because of the greed and negligence of man.
Tim from Amboseli. Photo Credits- Rajiv Welikala
Craig from Amboseli. Photo Credit- Rajiv Welikala
Big Tuskers are a remnant of an Africa of old and of days gone by, and sadly will end up as nothing more than a part of old tales and legends of a time once upon a time when mammoths roamed the earth.
Tim with other elephants in Amboseli . Photo Credits- Rajiv Welikala
Bibliography
Africa Geographic Magazine. (2019). Africa's Big Tuskers - Africa Geographic Magazine. [online]
Available at: https://magazine.africageographic.com/weekly/issue-96/africas-big-tuskers/
Africa Geographic Magazine. (2019). The silent giants of Tsavo - Africa Geographic Magazine. [online]
Available at: https://magazine.africageographic.com/weekly/issue-119/silent-giants-tsavo/
Africa Geographic Magazine. (2019). R.I.P SATAO 2 - Africa Geographic Magazine. [online]
Available at: https://magazine.africageographic.com/weekly/issue-141/rip-satao-2/
Alberts, E. (2019). People Just Killed One Of The Last 25 'Big Tusker' Elephants. [online]
The Dodo. Available at: https://www.thedodo.com/in-the-wild/big-tusker-elephant-killed-kenya
BBC News. (2019). Rare 'giant tusker' elephant killed. [online] Available at: https://www.bbc.com/news/world-africa-39188184
Bosman, P. and Hall-Martin, A. (1994). The magnificent seven and the other great tuskers of the Kruger National Park. Cape Town: Human & Rousseau.
Capstick, P. (2013). The last ivory hunter. New York: St. Martin's Press.
Gilbert, N. (2010). African elephants are two distinct species. Nature.
Marais, J. and Hadaway, D. (2012). Great tuskers of Africa. Cape Town: Penguin Books.
Poole, J. and Moss, C. (1981). Musth in the African elephant, Loxodonta africana. Nature, 292(5826), pp.830-831.
Tuskersofafrica.com. (2019). Tuskers of Africa. [online] Available at: http://www.tuskersofafrica.com/
Ward, R. (1986). Rowland Ward's records of big game. San Antonio, Tex. (9601 Broadway, Suite 201, San Antonio 78217): Rowland Ward Publications.